Schedule
Updated: August 13, 2018
The 2018 BCHMR Schedule is available for download in PDF here.
Is My Car Eligible for the BCHMR?
In most cases, YES, if it is a Closed Wheel Group or Exhibition Group car originally manufactured up to December 31, 1996 (for the 2019 event) and is prepared to an accepted set of race regulations. ALL Formula Fords and Formula Vees are eligible. Contact us if you have any questions.
Click below for 2018 BCHMR Poster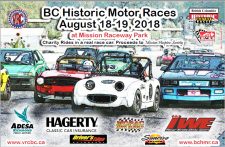 Click below for the 2018 BCHMR Program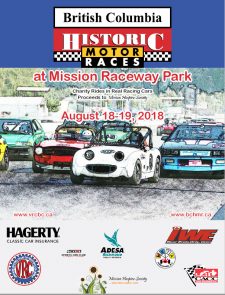 BCHMR on Video – Go 'Full Screen and Full Volume!'
Ride with Mike Adams in his 1970 Formula Ford Chinook – 2014 BCHMR
Mission from a Lotus Wishbone
In Car – Vintage Tiga FF77 at Mission – August 2011
Part 1: In Car-Twin Cam Escort in Big Bore Race at 2011 BCHMR
Part 2: In Car-Twin Cam Escort in Big Bore Race at 2011 BCHMR
The 'Fan Favourite' Feature Race at the 2011 BCHMR from Geoff Tupholme's 4th Place Mini